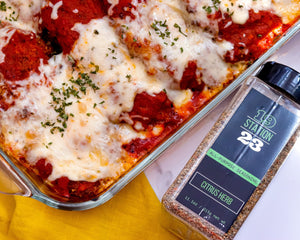 Easy, Gluten Free Air Fryer Chicken Parmesan
Adhering to a gluten-free diet can be tough, especially when there's certain foods you crave — like flavorful chicken or seafood in a crispy, crunchy coating. Most restaurants won't bother making gluten-free alternatives, so those of us with allergies or intolerances are left in a whirlwind of alternative flours and gritty ingredients — trying to make the best out of a bland situation.
If you've been craving a hearty Italian-inspired dish like chicken parmesan, but can't do the gluten, this recipe is for you! Our Air Fryer Chicken Parmesan recipe brings all the crispy, cheesy flavor you love, minus the gluten and heavy oil from frying.
Grab your Station 1923 Citrus Herb Seasoning and get your cooking station prepped — this is one recipe your friends and family are sure to love… and they won't even miss the gluten!
Oh and if you like to follow along by watching, we've got you covered with the video right here:
Ingredients
10 chicken breast tenderloin pieces
1/2 cup potato starch plus 1/2 cup rice flour, mixed (or substitute for 1 cup gluten free all purpose flour)
1 and 1/2 cups gluten free bread crumbs
1/2 cup grated Parmesan cheese
1 tablespoon Station 1923 Citrus Herb Seasoning divided, plus more for seasoning
3 large eggs
Cooking spray of choice
2 cups marinara sauce of choicce
1 and 1/2 cups shredded mozzarella
Fresh or dried parsley to garnish
Things You'll Need
1 Gallon-sized Ziploc bag
1 medium mixing bowl
1 large rectangular dish or plate
Parchment paper
Rolling pin or meat cleaver
Measuring cups or spoons
Gloves (optional, but recommended)
Air Fryer
Large spoon
Spatula
Whisk or fork
Large baking sheet
Large baking dish
Okay, you got everything? Good. Although the list of ingredients and things you'll need feels lengthier than our normal recipes, once you've set everything up it's smooth sailing, baby! Let's get started.
Step 1: Coating + Crumb Prep
As I mentioned previously, setting up this first step properly makes the rest of this recipe a breeze. Go ahead and grab your gallon-sized Ziploc, and to it add the potato starch, rice flour, and 1/2 tablespoon of Station 1923 Citrus Herb Seasoning. Close and shake gently to distribute seasoning. Set aside.
Next, crack your eggs into the medium-sized bowl and whisk until fully beaten. Set aside.
Lastly, in that large rectangular dish or plate, mix together your gluten-free bread crumbs, Parmesan cheese, and the remaining 1/2 tablespoon ofStation 1923 Citrus Herb Seasoning. Use your hands (this is why gloves are useful!) or a fork to thoroughly incorporate. Set aside.
Step 2: Chicken Prep
Part of what makes chicken parmesan so delightful is the thin, crispy nature of the chicken — no dry, bland breast meat over here! To get that desired thinness, roll out two sheets of parchment paper, about a foot and a half in length each. Lay the first sheet on a flat surface, and add 2-3 chicken breast tenderloins, spaced apart. Cover them with the second sheet of parchment paper, and use your rolling pin or meat cleaver to gently beat (well, flatten) the tenderloins until they're roughly 1/4 to 1/3 of an inch thick.
Remove the flattened tenderloins and set aside on your baking tray, repeating until all chicken is flattened.
Step 3: Season + Dredge
Now that your chicken is flat, it's time to get your assembly line going. Grab your seasoned potato starch and flour mix, beaten eggs, and seasoned parmesan breadcrumbs — and spread them out in an assembly line. 
Season your chicken tenderloins on both sides generously withStation 1923 Citrus Herb Seasoning, then follow this 1-2-3 flour-egg-crumb flow:
Two or three at a time, take your seasoned, flattened tenderloins and drop them into the Ziploc of seasoned potato starch and rice flour mix. Shake vigorously to coat. One by one, remove them from the mix, dusting off any excess potato starch and rice flour, then submerge the chicken into the beaten eggs.
Shake off excess dripping, and transfer to the parmesan cheese and breadcrumb tray. Flip and scoop until the chicken breast tenderloin is fully covered in the gluten free breadcrumbs and parmesan, pressing on both sides for extra adherence.
Lift and return to your large baking tray. Repeat this process for each chicken tenderloin breast.
Step 4: Freeze + Fryer Prep
Once all your chicken breast tenderloins are coated, stick the tray in your freezer for about 5 minutes to firm them up for easier handling. This will also help you lose less bread crumbs to the air fryer.
While the chicken is in the freezer, pre-heat your air fryer at 400°F. 
Step 5: Cook In Batches
Once your air fryer is ready, give the bottom tray a light spray with your cooking oil of choice. Gently lay in as many coated chicken tenderloins as you can without crowding or overlapping. We use the Ninja 2-Basket Air Fryer, and put one chicken tenderloin in at a time, since the pounding and coating forces them to take up more space than normal.
Lightly spray the coated chicken tenderloin with cooking oil, and air fry on 400°F for 5-7 minutes on each side for a total cook time of 10-14 minutes. Halfway through, flip the chicken over, lightly spray any dry spots with cooking spray, and resume cooking until coating is crisp and golden, and the chicken is done inside. 
Repeat until all chicken is cooked.
Step 6: Marinara + Melting
Depending on how much chicken you're cooking and how long you want to spend with the air fryer, there's two ways to finish this dish off with marinara and melty mozzarella goodness:
Option 1: Finish off individual pieces in the air fryer, covering with a generous heaping of marinara and mozzarella. Just air fry for 3-4 additional minutes on 400°F until the cheese is melted.
Option 2: Use the oven to finish all of your chicken parmesan at the same time.
We went with Option 2, preheating the oven to 375°F just as the chicken parmesan was coming out of the air fryer. 
To go this route, take about 1/2 a cup of marinara and pour it into the bottom of your large baking dish, spreading it around to coat evently. One by one, gently lay in each cooked chicken parmesan tenderloin.
Pour a generous helping of the marinara over each piece of chicken, but don't totally cover the entire surface area. Leave some of that crispy golden exterior to shine through! Follow that with a sprinkle of mozzarella throughout, and bake on 375°F for 10-15 minutes (or until cheese is sufficiently melted).
Serve and enjoy!
Looking for more gluten free air fryer recipes? Click here!
Shop Station 1923 Citrus Herb Seasoning
---