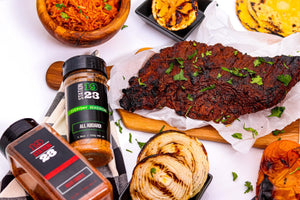 How to Make the BEST Authentic Gluten Free Carne Asada
Things are warming up, so you know what that means — it's time to fire up that grill! 🔥 And there's no better way to kick off grilling season than with a few flanks of juicy, flavorful marinated carne asada the Station 1923 way.
This gluten free carne asada recipe is packed with authentic, savory flavor, thanks to an easy two-step season and marinate process. With Station 1923 Rojo Smoke, our brand new All Aboard! Everyday Seasoning, and a few ingredients you'll likely have around the kitchen, whipping up this mouth-watering gluten free carne asada recipe is as easy as 1-2-3!
Ingredients
2 to 2.5lbs flap meat or similar cut (flank, skirt steak, etc.)
1/4 cup avocado oil (grapeseed, olive, or another vegetable oil is fine)
1/4 cup reduced sodium tamari or gluten free soy sauce
2 tbsp red wine vinegar
1 tbsp honey
1.5 cups orange juice (or pineapple juice)
1/3 cup lime juice
4 cloves garlic (we use Dorot frozen garlic cubes to make life easy)
1/2 cup chopped cilantro
1/2 red onion, sliced
3 tbsp Station 1923 Rojo Smoke
Lemon, cut in half (optional)
Onion, sliced into rings (optional)
Bell pepper, cut in half (optional)
Things You'll Need
Large mixing bowl
Measuring utensils
Whisk
Food-grade gloves (they make mixing and dipping much easier)
Knife
Cutting board
Grill
Tongs
Tray or dish (for the carne asada to rest after grilling)
Plastic wrap or foil
Got your goods? Let's get grilling!
Step 1: Marinade Prep
Pulling together this ridiculously flavorful carne asada marinade is super easy. Just measure, throw everything into the bowl, and mix.
To make life easier, prep all the veggies first — slicing them however you prefer. Put them to the side for a second. In your large mixing bowl, add the oil, citrus juices, red wine vinegar, honey, and gluten free soy sauce. Use your whisk to stir until fully incorporated.
Tip: If you plan to grill the marinated onions, slice them a bit thicker to prevent falling through the grill grates.
Next, add your garlic, cilantro, and onions to the mix. Finally, drop in your Station 1923 Rojo Smoke and All Aboard! Everyday Seasoning, and stir until everything is fully incorporated.
Step 2: Season Steak
Once your gluten free carne asada marinade is complete, set the bowl to the side, grab those steaks, and start seasoning.
Generously coat each side with 1-2 tablespoons each of Station 1923 Rojo Smoke and All Aboard! Everyday Seasoning, rubbing into the crevices of the flap meat.
Repeat until all pieces are covered.
Step 3: Marinate
Drop each seasoned flap steak into the marinade, dunking and covering both sides one-by-one. There should be enough liquid to fully submerge all the steaks.
Once all the flap steaks are in, cover with plastic wrap or foil and refrigerate for 2 hours or more. Most recipes say to avoid marinating overnight, but we tried it with pounded-out flank steaks from Costco and honestly, we wouldn't have it any other way. The most tender, flavorful asada ever came from an overnight marinade.
Step 4: Grill
Get your charcoal or propane grill flame going at medium or slightly below. Once hot and ready, add the marinated flap steaks. If you opted for the lemon, onion rings, bell pepper, and marinated onions, throw those on the grill too — whichever area is coolest (so you don't have to fuss with them too much).
After everything's on the grill, pour the remaining marinade over the carne asada.
Let the carne asada sizzle and cook for 4-7 minutes on each side, or a minute longer depending on thickness). Because of the sugars in the marinade (from orange juice, lime juice, and honey), there will be some char — but trust us, it's DELICIOUS.
Be sure to give those onions a flip, too!
Step 5: Slice and Enjoy
Once the carne asada is cooked to your preferred temperature, remove from the grill along with any of the veggies you had with it. Allow it to rest for a few minutes, then slice against the grain and serve.
Grab yourself a few corn tortillas, chop those veggies, and sprinkle on a bit of cilantro for the best carne asada tacos you've ever had! 🔥
For more easy gluten free grilling recipes, click here!
Shop Rojo Smoke
Shop All Aboard! Everyday Seasoning
---