FLAVOR MADE FRESH
COOK WITH CONFIDENCE
GOOD FOOD MADE EASY
FLAVORS FOR EVERY MOOD
WE TAKE THE GUESSWORK OUT OF GOOD COOKING
Everything you need to make delicious meals — inside one bottle. Each Station 1923 blend is an all-in-one seasoning solution crafted to save you time, money, and space in your spice cabinet.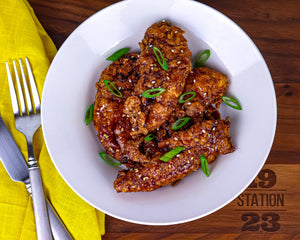 What our customers say
The variety that you get and the quality of these seasonings is UNMATCHED and such a GREAT VALUE!

Jeanette
Once again, Station 1923 has crafted a perfect blend of goodness. I never thought I could be cooking food that tastes THIS good. Trust me, you won't regret purchasing these phenomenal rubs!

Jess A.
I'm originally from Louisiana so I'm really picky when it comes to seasonings and food. From the speedy delivery down to the quality, everything was perfect.

Nikki R.