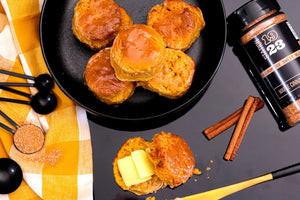 How to Make Buttery, Tender Gluten Free Sweet Potato Biscuits
These gluten free biscuits are tender, buttery, and rich without being too heavy — and kissed with just the perfect amount of sweetness and Station 1923 Maple Cinnamon warmth. They're easy to make, and so versatile — enjoy them with breakfast, brunch, dinner, or even as a dessert.
A total crowd pleaser and so addicting — you might end up having to stash a couple away for yourself before there's nothing but crumbs left in the pan.
And did we mention they're easy to make? And gluten free? Mmm... let's get started.
Ingredients
260g (about 1 cup) sweet potatoes, softened (more on this later)
1 tablespoon vanilla (or more, because vanilla is a vibe)
1/2 cup brown sugar, packed
1/3 cup water
1 teaspoon xanthan gum (only if your gluten free flour does not have it)
1 teaspoon baking powder
1/2 teaspoon salt
1/4 cup buttermilk
305g (about 2 cups + 2 1/2 tablespoons) gluten free 1:1 flour (we prefer King Arthur's), plus more for sprinkling surface
125g (about 1/2 cup + 1 teaspoon) unsalted butter, plus 1 tablespoon for melting
1 tablespoon cup honey (optional)
Things You'll Need
Measuring utensils
Hand mixer
Immersion blender (optional)
Kitchen scale (optional, but highly recommended for baking)
2 mixing bowls
Knife
Fork
Large spoon
Spatula or scraper
Foil (if baking)
Baking pan(s)
Microwave-safe container (if microwaving)
Rolling pin (or a smooth glass)
Flat surface or large cutting board
Parchment paper (optional but recommended)
Small glass or biscuit cutter
Got everything you need? Good. Let's get started!
Step 1: Prep Work
While these gluten free sweet potato biscuits are easy to make, they do require a wee bit of work ahead of time. First things first: cooking the sweet potatoes themselves. Baked in the oven is our preferred method, but you can microwave the sweet potatoes in a pinch. Whichever way you go, be sure to wash the sweet potatoes first and pat them dry.
Oven Style: Use a fork to poke holes across the top of your sweet potatoes, wrap loosely in foil and place on a baking tray or dish. Bake on 425°F for 45-60 minutes or until fork tender.
Microwave Style: Use a fork to poke holes across the top of your sweet potatoes, place them in a microwave-safe container and microwave for 6 minutes, flipping them over at the 3-minute mark. If they're not fork tender yet, continue microwaving in 30-second increments.
While the sweet potatoes are sweet potato-ing, grab your unsalted butter and cut it into pats (little squares), then stick them in the fridge or freezer until the sweet potatoes are done. Biscuits come out best when the butter is COLD!
When the sweet potatoes are done, allow them to cool completely before moving to step 2.
Step 2: Wet Ingredients
Once your sweet potatoes are completely cool, scoop them into a measuring cup or onto the scale in a mixing bowl to get exactly what you need and refrigerate the rest. Before  adding the rest of your wet ingredients, the sweet potatoes will need to be broken down some.
If you prefer chunks of sweet potato, use a fork. If you want a smoother, more even sweet potato texture, use an immersion blender until the sweet potato looks like a smooth pureé (or baby food). 
Once you've broken the sweet potato down to your desired consistency, add the rest of your wet ingredients and sugars to the mixing bowl (vanilla, buttermilk, water, Station 1923 Maple Cinnamon, brown sugar) and blend with a hand mixer until everything is fully incorporated into a thick batter— but don't overmix.
Feel free to stick a spoon into the blend and taste. Adjust the amount of Maple Cinnamon, brown sugar, or vanilla to your liking.
Step 3: Dry Ingredients
In a separate bowl, add your dry ingredients one-by-one: flour, baking powder, salt, xanthan gum (if needed). Use a spatula to begin mixing the dry ingredients  together.
Now grab your sweet potato mixture and fold into the flour gently until the crumbly sweet potato dough biscuit dough forms, being careful to not over-mix.
Working quickly, grab your pats of butter from the fridge or freezer, and use your hands to work them into the crumbly dough. Squeeze and pinch as you knead, but don't overdo it.
You should have a cohesive, still slightly crumbly dough that's not sticky or runny.
If your dough is too sticky or thin, add a few pinches of flour. If it is too dry and crumbly, add a teaspoon of water until the desired consistency is reached. 
Step 4: Roll Out
Preheat your oven to 425°F.
Find your designated flat surface for rolling the biscuits out. I recommend using a large sheet of parchment paper (for easy cleanup) but it's not required. Whatever surface, dust it with gluten free flour to prevent sticking.
Drop your dough onto the floured surface and mold it gently into a ball-like shape. Dust the top of the ball with a bit more gluten free flour to prevent roller sticking. Use your roller in short, medium strokes to roll the dough out to about 1 1/2 to 2 inch thickness. 
Lightly butter the bottom of your baking pan, then use your biscuit cutter or glass to press out the biscuits. Lay the biscuits one-by-one into the baking pan, being sure that the biscuit edges touch.
They rise taller together.
Roll scraps and repeat until you've made biscuits out of all usable dough.
Step 5: Bake
Bake biscuits for 12-15 minutes, or until they're golden brown on top.
Melt down that reserved tablespoon of butter, and mix in the tablespoon of honey. Brush or drizzle across the tops of the warm biscuits. For extra razzle dazzle, dust a little Station 1923 Maple Cinnamon on top.
Serve warm and enjoy!
---
1 comment