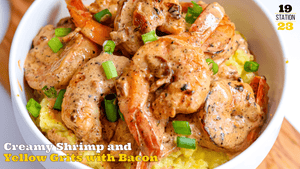 Creamy Shrimp with Yellow Grits and Bacon
If you're looking for a restaurant quality dish to serve up and wow your favorite people, this is the ONE. In this recipe, we take rustic yellow grits and combine them with tender shrimp, crispy bacon, and a  decadent cream sauce for an UNFORGETTABLE twist on classic Creole shrimp and grits.
Serve this dish for Sunday brunch or switch it up and enjoy breakfast for dinner. Either way, you're sure to impress even the most picky eaters.
 To bring this decadent dish to life, you'll need the Creole Smoke and Citrus Herb All-Purpose Seasonings. Grab your bottles and let's get started!
Ingredients: Grits
4 cups of chicken broth (or water plus 2-3 teaspoons of Reduced Sodium Roasted Chicken Better than Bouillon)
1.5 cups dry yellow grits
optional: 2/3 cup of Trader Joe's Shredded Unexpected Cheddar
Ingredients: Shrimp
Ingredients: Creamy Sauce with Bacon
4 slices of thick-cut bacon
1 cup heavy cream (we use heavy whipping cream)
2 teaspoons

 

Creole Smoke All-Purpose Seasoning
1 teaspoon

 

Citrus Herb All-Purpose Seasoning
2-3 tablespoons of sherry or white wine
1 tablespoon tomato paste
1/4 cup chicken stock (or 1/4 cup water plus 1 teaspoon Reduced Sodium Roasted Chicken Better than Bouillon
green onion to garnish
Things You'll Need
Cast iron skillet or large sauté pan
Medium to large sauce pan with lid
Cutting board
Small mixing bowl
Knife
Measuring utensils
Whisk or spoon (for grits)
Small bowl or jar (for bacon grease)
Extra plate or dish and napkins
Got everything? Great. Let's whip this dish on up!
Step1: Get Your Grits Going
Inside your medium to large stock pot, bring 4 cups of chicken broth (or water) to a boil. If using water, dissolve 2-3 teaspoons of Reduced Sodium Roasted Chicken Better than Bouillon into the water once it begins boiling.
Add yellow grits, stir thoroughly, and place the lid on. Reduce flame to a medium low so that grits may begin cooking while you season and prep the rest of the dish.
Just remember to check on your grits and stir occasionally. If they begin to thicken too much before softening, add water at 1/4 cup increments.
Note: Don't move on to step 2 just yet. Yellow grits are notorious for taking forever to cook. Wait until they've been cooking for at least half an hour to start the next steps. That way, everything will finish around the same time.
Step 2: Shrimp + Bacon Prep
Peel, devein, and clean the shrimp, placing them into your small mixing bowl. Use paper towels to soak up excess water. Season with Creole Smoke and Citrus Herb, then refrigerate or set aside.
Heat your cast iron skillet over a medium high flame. Once it's piping hot, add your slices of thick-cut bacon and cook until crispy (which will make it easier to break and crumble).
Once fully cooked, remove bacon and set aside on dish with napkins to drain excess fat. Pour the rendered bacon fat into a small jar or ramekin and set aside.
Don't forget to check on those grits!
Step 3: Cook Shrimp
Put your cast iron skillet back on the stove over a medium high flame. Add 1 teaspoon of bacon fat back into the skillet. Once the the skillet and fat are hot, drop in your shrimp, taking care to not crowd the pan. Allow shrimp to cook about 75% of the way (seared on both sides but not fully cooked), and remove from the cast iron skillet.
Set the shrimp aside and go stir those grits again!
Step 4: Get Saucy
Using the same cast iron skillet (don't wipe those brown bits out!), add heavy cream, tomato paste, and Better than Bouillon over a low flame. Sprinkle in Creole Smoke and Citrus Herb All-Purpose Seasonings and stir again.
Add sherry or white wine, stir, and allow all ingredients to come together for about 5 minutes.
Step 5: Bring it All Together
Once the creamy sauce has been thoroughly incorporated and comes to a low boil, add the shrimp back in to finish the cook. This will only take a few minutes.
While the shrimp finish, chop or crumble the cooked bacon into small pieces and chop up some green onion.
Add the crumbled bacon and stir for another minute or two. Once everything is nice and coated, turn off the flame and garnish with green onion.
Around this time, your grits should be done too — so turn off that flame and feel free to sprinkle in your cheese (optional).
Step 6: Grab a Bowl and Serve!
Add a heaping spoonful (or two, or three) of yellow grits to your bowl, top with some shrimp, and drizzle lots of that delicious sauce all around. Don't skip the bacon crumbles! Top with a bit more green onion and serve.
Enjoy!
Thinking about making your own creamy shrimp with yellow grits and bacon? Don't forget to tag us @station1923 on Instagram when you do! We love to see our family doing it up in the kitchen!
Shop Creole Smoke All-Purpose Seasoning
---