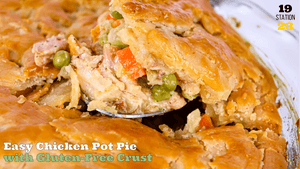 Easy Chicken Pot Pie with Golden Gluten-Free Crust
As the days get shorter and temperatures drop, we start craving warm comfort foods — and this pot pie hits all the right notes. With a flaky, gluten-free crust, tender chicken, and plenty of veggies, this pot pie is the perfect fall dish and delicious down to the last bite.
But that's not even the best part!
This chicken pot pie is super easy to make, and comes together in under an hour! Not to mention, it makes great use of leftover chicken. Grab your Citrus Herb and Creole Smoke, and let's get cookin'!
We're stepping our video game up at Station 1923, so we've included a video for this recipe. Press play and follow along!
Ingredients
5 whole chicken thighs (or whatever chicken you have on hand). For this recipe, we used leftover chicken seasoned and smoked with Citrus Herb All-Purpose Seasoning
1 cup frozen green peas
1 cup mirepoix (or 1/3 cup each of chopped celery, onion, and carrot)
1-2 tablespoons avocado oil
2 cloves (or cubes) of minced garlic
3/4 cup heavy cream (we use heavy whipping cream)
1/2 teaspoon Citrus Herb All-Purpose Seasoning
1/2 teaspoon Creole Smoke All-Purpose Seasoning
1/2 cup chicken stock (we used 1/2 cup of water and <1 teaspoon Reduced Sodium Roasted Chicken Better than Bouillon)
2-pack gluten-free pie shells
1 egg yolk (optional)
Things You'll Need
Large sauté pan
Cutting board
Knife
Measuring utensils
Cooking utensil
Ramekin or small bowl
Whisk or fork (for egg yolk)
Pie pan or baking sheet (in case your pot pie bubbles over)
Gloves (optional, but recommend for breaking down chicken)
Got your goods? Let's get started.
Step 1: Pre-Heat + Prep
First things first — pre-heat your oven to 375F. While the oven warms up, grab your leftover chicken and remove any bones, skin, and excess fat.
Chop your chicken and any veggies that aren't already pre-chopped. To save even more time, we recommend the mirepoix mix that's sold at stores like Trader Joe's. We also swear by Dorot frozen minced garlic cubes. They're a huge time-saver with amazing fresh garlic flavor. Don't say we never told you!
Step 2: Start Cooking
With everything chopped and ready, it's time to start cooking! Grab your large sauté pan and add 1-2 teaspoons of avocado oil over medium heat. When the oil is hot, add your celery, onion, and carrot, and sauté until tender. 
Next, add the green peas, garlic, Citrus Herb, and Creole Smoke. Cook until the peas are fully defrosted and bright green. Finally, add in the chopped chicken and stir until thoroughly combined.
Step 3: Bring Everything Together
Pour in heavy cream and chicken stock (or water and Better Than Bouillon). Stir until everything is combined. Reduce heat and allow the pot pie filling to cook until it begins to thicken, for approximately 10-12 minutes. 
At this point, pull your pie shells from the freezer. The idea is for them to thaw enough to be pliable, but not to break apart. In the video, we pulled our pie shells from the freezer too early, which made them too soft and crumbly.
Don't forget to go back and stir the pot occasionally!
Step 4: Fill Pie Shell
Once your filling is ready, turn off the flame. Separate your pie shells, and pour the pot pie filling into the first shell.
DELICATELY pull the second pie shell from the other pan, and place it on top of the first shell with filling. If it breaks apart in the process, don't worry. Just play a little pastry Tetris and fill in the holes as best you can, pinching to bring the pieces together in the process.
If you manage to flawlessly transfer the second pie shell, use a knife to cut a slit or an "x" in the center for steam to escape while baking. If your shell crumbled and has gaps like ours, it's not necessary.
Step 5: Egg Wash (Optional) + Bake
For a deeper, more golden brown crust, a yolk egg wash is the way to go. But you're totally welcome to skip this step and pop that chicken pot pie in the oven at this point.
To achieve that irresistible golden crust, separate your egg yolk into a small bowl or ramekin, whisk, and brush gently across the top pie shell.
Once complete, place your pot pie into a second pie dish or on a baking sheet. In the event that the contents bubble over, they'll drip into the second dish instead of the bottom of your oven and burning.
Bake at 375F for 30 minutes or until golden brown.
Once finished, cut, serve, and don't count the calories.
Enjoy!
Thinking about making your own easy chicken pot pie? Don't forget to tag us @station1923 on Instagram when you do! We love to see our family doing it up in the kitchen!
Shop Citrus Herb All-Purpose Seasoning
Shop Creole Smoke All-Purpose Seasoning
---