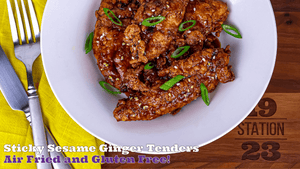 Air Fryer Gluten Free Sticky Sesame Ginger Chicken Tenders
There's a chicken wing spot in LA that we love, because their wings are crispy, baked, and gluten free. Their sesame ginger chicken tenders are to die for — but driving through traffic on the 101 just to get them is...not.
So you know what we did — we made the Station 1923 version at home in the air fryer. Because there's zero traffic in the kitchen. 😂
Our sticky sesame ginger chicken tenders are juicy and flavorful inside, with a delightful and crispy exterior. We then toss them in a sticky, sweet, and savory soy ginger sauce. Every step of the way, Station 1923 Tamari Ginger Seasoning packs a delicious, flavorful, and umami-filled punch.
The end result is sticky sesame ginger chicken tender that gives any wing spot a run for their money. One bite and you'll be deleting wing restaurant numbers from your phone. 
Plus, they're 100% gluten free and super easy to make! You can adjust this recipe to make bone-in wings, too! Let's get started.
Ingredients: Wings
Chicken breast tenderloins
Cornstarch
Rice flour
Egg
Ingredients: Sauce
1/2 + 1 tablespoon cup low sodium tamari (gluten-free soy sauce)
1/4 cup + 1 tablespoon water
1.5 teaspoons Station 1923 Tamari Ginger Seasoning
5 teaspoons crushed ginger (we use the frozen Dorot ginger)
3 cloves crushed or minced garlic (Dorot again!)
1/2 cup brown sugar
2-3 teaspoons sesame seeds
Scallion, sliced (for garnish)
Things You'll Need
Air fryer
Paper towels
Ziploc bag
Measuring utensils
Small sauce or stock pot
Small bowl or ramekin
Fork or whisk
Large mixing bowl
Silicone-tipped tongs
Cooking spray
Cutting board or baking tray
Step 1: Season Everything
We didn't include any measurements on the chicken and flour because at this point, we know you've got it together! Just clean those chicken tenderloins and pat them dry. Season them well with Station 1923 Tamari Ginger Seasoning, and toss to ensure they're evenly coated in flavor.
Then, grab your Ziploc bag and put a 1:1 ratio of cornstarch to rice flour inside. Scale it up or down, depending on how much chicken you're cooking. It's always better to have too much flour mix than not enough. Once you get the ratio right, add a few teaspoons of Station 1923 Tamari Ginger Seasoning, seal the Ziploc bag, and shake gently to mix.
Step 2: Coat
Before prepping the chicken, turn your air fryer on and preheat at 400F for 5 minutes. Also turn on your oven to a temperature in the low 200s, just enough to keep the tenders warm as you cook in batches.
In a separate small bowl, crack and beat your egg until fully mixed. Pour over the seasoned tenderloins, and use your hands to mix and ensure that all pieces of chicken are coated. This is quicker than dipping each individual chicken tenderloin in the egg mixture.
Working a few tenderloins at a time, add them to the Ziploc bag then shake vigorously to coat. Tap each tenderloin to remove the excess coating, and lay on a baking tray or cutting board. Repeat each step until all tenders have been coated.
Need more tips on cooking air fryer chicken that looks, tastes, and feels deep fried? Click here!
Step 3: Cook Tenders
Once your air fryer is ready, lay in coated tenderloins without overcrowding the tray. Cover with a light coating of cooking spray, paying extra attention to ashy spots. 
Air fry in batches at 400F for 7-9 minutes on each side. When you flip the tenderloins, use the cooking spray to hit those ashy spots!
Repeat until all tenders are cooked, moving them to a baking tray to keep them warm while other batches air fry.
Step 4: Sauce
While your tenders air fry, it's time to make that sauce! In a small sauce pan or pot, combine gluten-free soy sauce and water over a medium flame. Next, add ginger, garlic, and Station 1923 Tamari Ginger Seasoning. Whisk until fully incorporated.
Lastly add, brown sugar and stir until it fully dissolves. Continue to stir your sauce intermittently, allowing it to thicken. Once it thickens, reduce heat to low and add a few teaspoons of sesame seeds. When your sauce has reached the desired consistency (thickened, but not cornstarch thick), remove it from the heat.
Step 5: Toss and Serve
Transfer your air fried chicken tenderloins to a large mixing bowl. If there's too many to sauce at once, do it in batches. Pour your sauce over the chicken tenders, and use tongs to toss and make sure each tender is coated well.
Remove, garnish with more sesame seeds and scallion, then serve.
And delete that wing restaurant's number. 😂
Don't forget to tag us on Instagram @station1923 in those chicken tender pics!
---