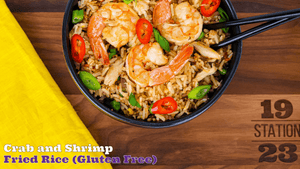 Better Than Takeout Crab & Shrimp Fried Rice | Gluten Free
Looking for a quick, easy, gluten-free fried rice recipe that tastes better than takeout? The search stops here!
This gluten free crab and shrimp fried rice recipe is packed with healthy protein, full of amazing flavor, and not at all greasy. Get your wok hot — we're going to show you how to pull off this better than takeout crab and shrimp fried rice in just a few minutes!
Ingredients
2 cups jasmine rice, uncooked
1 pound 21-25 shrimp
2 pounds crab meat
3 stalks scallion, sliced
1 cup shredded carrots, chopped*
1.5 cups petite frozen green peas*
3 teaspoons Station 1923 Tamari Ginger Seasoning
2 cloves garlic, minced
1/4 cup onion, chopped
1 teaspoon ginger, minced
1 egg
3 tablespoons gluten-free reduced sodium soy sauce
1.5 tablespoons mirin (sweet cooking wine)
1 tablespoon gluten-free oyster sauce
fish sauce
toasted sesame oil
2 tablespoons cooking

 

oil
Things You'll Need
Wok
Cooking utensils
Cutting board
Measuring utensils
*You can absolutely use frozen peas and carrots. We just happened to have shredded carrots on hand for this recipe.
I know, I know. I asked you to grab a bunch of things — but trust me, this recipe is easy and you'll be in love with the results. Now let's get started!
Step 1: Cook Rice
The key to an amazing fried rice is...old rice. In a perfect world, you'd have a few cups of cooked jasmine rice hangin' out in the fridge. But let's keep it real — you don't (and neither did we). So here's the hack:
Cook your jasmine rice, then spread it out on a baking sheet covered in parchment paper. Spread it out as thin as you can, and drop it in the fridge or freezer. If you've got some times, a few hours in the refrigerator will do the trick. If lunch or dinnertime is calling, half an hour in the freezer will do.
Step 2: Prep Shrimp
Once your rice is cold and ready, it's time to make this dish happen. Peel, devein, and clean your shrimp. Then, season them with 2 (or more) teaspoons of Station 1923 Tamari Ginger Seasoning.
Heat up your wok with 1 tablespoon of oil. Once it's hot, drop the shrimp in and sauté until they're about 80-90% cooked. Remove them from the wok and set aside.
Get ready — the next steps move FAST!
Step 3: Sauté Veggies
Toss the second tablespoon of oil into your wok and let it heat up. Another key to good fried rice (that's not soggy) is a HOT wok! Once the wok is sizzling, add your peas, carrots, onion, garlic, and ginger. Stir, then add 1/2 tablespoon of the gluten free soy sauce, and 1/2 tablespoon of mirin.
Stir again and cook everything together until tender (but not burning). 
Now get ready to MOVE!
Step 4: All About the Rice
Grab your chilled rice from the refrigerator or freezer, and toss it into the wok. Then, add your crab, the remaining soy sauce and mirin, and 1 teaspoon of Station 1923 Tamari Ginger Seasoning. Stir vigirously to break up any clumps of crab and rice, fully incorporating them with the veggies.
Add oyster sauce and a dash or two of fish sauce. Stir again and taste your rice. Feel free to add more soy sauce, or a pinch of Himalayan pink salt. 
Step 5: Finishing Touches
At this stage, add your shrimp back in and a few handfuls of sliced scallion. Stir to fully incorporate.
Then, use your cooking utensil to push the fried rice to one side of your wok. Crack your egg (or two) in the empty side of the wok and scramble. Once cooked, stir the egg into the rest of the rice.
Once everything is fully wok'd together, add a light drizzle of toasted sesame oil and wok again. Garnish with the remaining scallion and serve.
Boom! You just made better-than-takeout crab and shrimp fried rice! It moved fast, but that was easy right?
Don't forget to tag us on Instagram @station1923 in your crab and shrimp fried rice dishes!
---