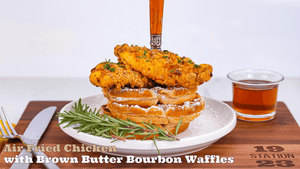 Buttermilk Air Fried Chicken and Brown Butter Bourbon Waffles | Gluten Free
When it comes to brunch, it doesn't get much more iconic than chicken and waffles. This indulgent duo is savory, sweet, rich, and will definitely leave you with the itis. That's why we had to put our Station 1923 spin on this classic combo — lightening it up and going gluten free without sacrificing flavor.
In our recipe, the buttermilk chicken is gluten free and air fried, serving up tons of satisfying crunch while cutting back on deep fried fat and greasiness. But the real star of the show is the waffle! Our waffles are gluten free, crispy on the outside, and soft inside. They're jam-packed with flavor, thanks to the addition of browned butter, a shot of bourbon, and of course, our Maple Cinnamon All-Purpose Sweet Blend.
Grab the Station 1923 Brunch Pack and get ready to whip up this amazing combo!
Just one bite, and you'll be saying, "Roscoe's who? Waffle House, what? I don't know this restaurant. Sorry to this restaurant."😭
Watch.
Now let's get cooking.
Buttermilk Air Fried Chicken Ingredients
Brown Butter Bourbon Waffles Ingredients
1 cup gluten-free flour (we used Bob's Red Mill 1:1 Baking Flour)
1 tablespoon cornstarch
1 tablespoon + 1 teaspoon Station 1923 Maple Cinnamon All-Purpose Sweet Blend
1 teaspoon baking powder
1 teaspoon vanilla extract
1/2 cup almond or buttermilk
1 egg, separated
3 tablespoons butter, browned
1/4 cup bourbon
Powdered sugar or sweetener (optional)
Things You'll Need
Air fryer
Waffle maker
Mixing bowls
Hand mixer
Baking tray
Wire rack (optional)
Paper towels
Measuring utensils
Measuring cups
Tongs
Small bowl/ramekin
Spatula
Large Ziploc bag
Plastic cling wrap
Small saucepan
Cooking spray
Got your goods? Let's get started!
Step 1: Buttermilk Air Fried Chicken Prep
Getting tasty buttermilk air fried chicken is all about the seasoning and the soak! Clean your chicken tenderloins and pat them dry with paper towels. In a mixing bowl, add 1-2 teaspoons of Station 1923 Brown Sugar Smoke (or Citrus Herb!) and Station 1923 Creole Smoke, and toss until all chicken is covered. In a measuring cup, beat 1 egg then add 1/2 cup buttermilk and stir until fully incorporated.
Pour the buttermilk and egg mixture over the chicken tenders and cover. Allow to sit and soak for 10-15 minutes (or longer if you have the time!) in the refrigerator. While your chicken soaks, combine cornstarch and rice flour in a gallon-sized Ziploc bag. Add 1 teaspoon of Station 1923 Brown Sugar Smoke (or Citrus Herb) and Station 1923 Creole Smoke to the dry coating mix, and knead the bag gently to mix. Set aside.
Step 2: Brown Butter Bourbon Waffle Mix Prep
In a medium to large mixing bowl, combine your dry ingredients — gluten-free flour, baking powder, cornstarch, and Station 1923 Maple Cinnamon All-Purpose Sweet Blend. Whisk until dry ingredients are fully incorporated and set aside.
Place your small sauce pan over a medium flame and add butter, stirring intermittently for 5-8 minutes until the butter browns and a beautiful caramelized aroma develops. Remove the pan from the heat and set aside. Be careful not to let it burn!
Next, separate 1 egg —pouring the egg white into a small mixing bowl. Add the yolk to your dry mix, along with vanilla, the browned butter, and bourbon. Mix until fully incorporated.
Now back to this egg white! Grab your hand mixer and beat the egg white to stiff peaks. You'll know it's at the right consistency when you can turn the bowl upside down and the egg white doesn't move.
Once you've got the egg white right, gently fold it into your waffle mix. Don't overmix — just get it folded in.
Step 3: Back to the Chicken
Set your waffle mix aside for a second and get ready to air fry this chicken! Preheat your air fryer for 5 minutes at 400F. While the clock counts down, remove your chicken piece by piece, and place it directly into the Ziploc bag of seasoned coating mix.
Shake and toss the bag vigorously until all chicken is coated. One by one, remove them from the bag, tapping gently to release excess coating. Set on a cutting board and baking tray until the air fryer is ready.
These few extra minutes help the moisture from the chicken, egg, and buttermilk soak into the powder coating — which is key #1 to creating a crispy, golden exterior in the air fryer.
Also, plug your waffle maker in and get it hot. Optional: heat your oven to 200F to keep everything warm while you cook.
Step 4: Chicken Cookin' Time
Once your air fryer is ready, give the base of the tray a nice coating of cooking spray to ensure your buttermilk chicken doesn't stick. Then, place however many pieces of chicken you can, without crowding the pan.
This is key #2. For crispy air fryer results, you need to give the hot air enough room to circulate around each piece of chicken. 
Once the buttermilk chicken is placed, quickly spritz cooking spray across the chicken (don't soak it, just enough to lightly coat). Make sure to get any "ashy" white powdery spots. That's key #3.
Cook your chicken on 400F in the air fryer for 7-10 minutes for the first side.
Step 5: Waffles While the Chicken Cooks
While your buttermilk air fried chicken is going, let's get these brown butter bourbon waffles started! Spray your hot waffle iron with cooking spray (or brush with butter) if needed. Scoop or spoon waffle batter in and let those bad boys cook!
Warning: your kitchen will smell HEAVENLY as the aroma of Maple Cinnamon, browned butter, vanilla, and bourbon drift throughout the air.🤤
For these brown butter bourbon waffles, we used our beloved Dash Mini Waffle Makers. However, you can use whatever waffle iron you have on hand.
You'll probably be able to get a few batches of brown butter bourbon waffles made while the chicken cooks, but don't ignore it! Once 7-10 minutes has passed (depending on the thickness of the chicken pieces), use tongs or a spatula to gently turn them over. Grab your cooking spray again, and hit any ashy spots. Cook for another 6-9 minutes (or until golden brown without burning.)
Step 6: Keep Everything Warm
Remember that optional step to keep the oven warm? It comes in handy when things like waffle and chicken have to be cooked in batches. As each batch of buttermilk air fried chicken cooks, remove and transfer to a baking tray or wire rack. Same goes for the brown butter bourbon waffles.
Placing the waffles on a rack instead of directly onto a tray or plate helps keep the exterior crispy. Otherwise, once side of them will become a bit soft and soggy from the steam.
Step 7: Garnish and Serve!
Once all your buttermilk air fried chicken and brown butter bourbon waffles are cooked, it's time to plate and serve! We like to stack our waffles, dust lightly with powdered sweetener, add the chicken, and serve with a side of warm sugar-free maple syrup.
Enjoy!
And as always, if you whip up your own version of this recipe, don't forget to tag us on Instagram @station1923!
---