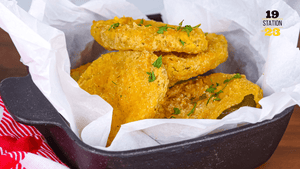 Crispy Gluten Free Air Fried Dill Pickle Chips
Whether you make them for a quick snack or serve them up as an appetizer, these gluten free air fryer pickle chips are crispy, tart, flavorful, and super easy to make.
With just a handful of ingredients and Station 1923 Creole Smoke All Purpose Seasoning, you're just 30 minutes away from air fryer pickle chips so delicious, you'll think you're at a restaurant!
Ingredients
1 small jar of medium to large pickle slices (pro tip: use Claussen)
1/4 cup fish fry or cornmeal
3/4 cup rice flour + 1 tablespoon
3/4 cup cornstarch
1 egg
3/4 cup buttermilk
2 teaspoons Station 1923 Creole Smoke All Purpose Seasoning
Cooking spray
Things You'll Need
Air fryer
Large baking or cookie sheet
Parchment or wax paper
Measuring utensils
Spoon or whisk
Large Ziploc bag
Paper towels
Silicone-tipped tongs
Mixing bowl
Note: If you don't need or want the gluten free version, just swap the rice flour and cornstarch with regular all purpose flour.
Step 1: Batter + Coating Prep
In a medium-sized mixing bowl, combine your egg, buttermilk, tablespoon of rice flour, and 1 teaspoon of Station 1923 Creole Smoke Seasoning. Whisk until fully incorporated and set aside.
Tip: If you *love* pickle flavor, drop a teaspoon or two of pickle juice into your wet mix.
Next, grab your large Ziploc bag and add rice flour, cornstarch, and fish fry (or cornmeal). Add remaining 2 teaspoons of Station 1923 Creole Smoke, zip closed, and shake until fully mixed.
Step 2: Dip Pickles
Remove your pickle slices from the jar and dip them right into the wet batter. Mix by hand to ensure they're evenly coated then immediately drop into your Ziploc bag of dry seasoning. Close bag and shake vigorously to ensure even coating.
Step 3: Freeze
Grab your baking sheet and cover with parchment paper. Remove coated pickle slices from the Ziploc bag, gently shaking away any excess coating. Place directly on the baking tray (without the pickle slices touching). Freeze for 12-15 minutes, or until the coating just begins to firm up.
Freezing before air frying helps the coating better adhere, and yields a more crispy exterior.
Step 4: Air Fry
Preheat your air fryer for 5 minutes at 400°F. Once heated, spray the bottom tray with cooking spray, add pickle slices (leaving enough room between them for the hot air to circulate and cook), and coat gently with more cooking spray.
Be sure to cover any "ashy" spots!
Air fry on 400°F for 7-9 minutes or until golden and crispy. Flip and hit those "ashy" spots with more cooking spray, then air fry for another 5-6 minutes.
Step 5: Serve + Enjoy!
Air fried pickles are best served warm. If you have to cook in batches, keep the already air fried pickles on a cooling rack or baking sheet in the oven. Serve with your favorite dip, and keep crunchin'!
Love this recipe? Click here to watch our demo video on Instagram!
For more Station 1923 air fryer recipes, click here.
---