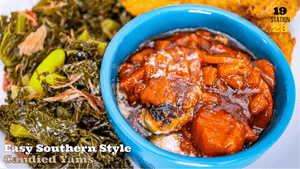 Easy Southern Style Candied Yams
This recipe is for you if:
You got put on Resurrection Sunday yam duty or;
You can't get ahold of mom or granny's yams or;
You usually let an adult-ier adult handle the yams, but 2021 is your time to shine
Whatever circumstance has you standing in the kitchen staring down a pile of sweet potatoes, we've got your back. Grab your Station 1923 Maple Cinnamon All-Purpose Sweet Blend and let's get started.
Many thanks to our sister April for breaking down this super easy recipe!
Ingredients
Things You'll Need
Potato peeler or paring knife
Cutting board
Knife (for chopping)
Measuring utensils
Baking dish
Small saucepan
Whisk
Ready? Let's get it. We believe in you!
Step 1: Peel, Cut, Prep
Gather your sweet potatoes and carefully remove all skin and any janky-looking bits. Once they're all peeled, cut each sweet potato vertically down the center so you have two long halves. Cut each half into slices about 1/4 of an inch thick.
Try to keep your slices as uniform as possible to ensure an even cook.
While chopping, pre-heat your oven to 350F.
Step 2: Sauce it Up
Once all the sweet potatoes are cut, place your saucepan on the top of the stove over a medium-low flame. Grab your stick of butter and use a bit of it to grease your baking dish. Take the rest of the stick and place it in the saucepan. Once the butter is completely melted, add your Maple Cinnamon Sweet Blend, brown sugar, vanilla, and nutmeg.
Mix all the ingredients together until a thick sauce forms. Don't worry about the sauce being too thick — the sweet potatoes will handle that. Before cutting off the flame, taste your sauce to ensure it has the right balance of flavors you like. Want more spice? Toss in extra Maple Cinnamon Sweet Blend and nutmeg. Extra splash of vanilla? It's your world!
Step 3: Bake
Take your cut sweet potatoes and place them evenly around the buttered baking dish. Next, pour your buttery, brown sugar and spice sauce all around the sweet potatoes. Give them a gentle stir or toss to make sure each one is coated.
Place them in the oven and bake for 35-45 minutes, until those candied yams are fork tender. Meaning, a fork pressed gently into one of the yam slices should go right through with no resistance. If they're still feeling tough, bake longer.
Mid-way through baking, give your candied yams a gentle stir. You'll notice that your yams are kinda swimming in extra liquid. This is normal and nothing to be concerned about. All that extra liquid is just water and the natural sugars from the sweet potatoes coming out — which is why we said not to worry about the brown sugar and spice sauce being too thick.
Just allow them to cook until tender, and that sauce should thicken up all on its own.
Step 4: Marshmallows Optional
Now, some folks like to top their candied yams with toasted marshmallows. Other folks call that a sin. At Station 1923, we say do what makes you happy. If marshmallows on top of candied yams is your jam, do that!
Once the yams are about 5-7 minutes from being done, pull them out and top with marshmallows. Continue baking until the marshmallows begin melting without losing shape.
To get that pretty caramelization on top, use a cooking torch (if you have one), or run them under the broiler for a hot second.
Step 5: Make Your Plate (and Ours)
Once these candied yams are done, they're done! We couldn't pass up the opportunity to make a full plate of gluten-free fire with air fried chicken wings, kale with smoked turkey, and mac n' cheese.
As a matter of fact, Station 1923 is all over this whole plate! Here's how we seasoned everything:
If you plan on making these candied yams to make your mama proud, don't forget to tag us on Instagram @station1923 in your pics!
Shop Station 1923
---