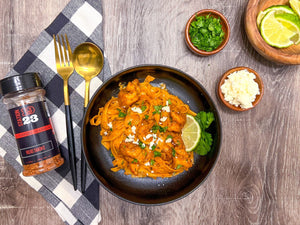 Creamy Guajillo Tequila Lime Pasta with Rojo Smoke Shrimp (Gluten Free!)
This creamy guajillo tequila lime pasta with Rojo Smoke shrimp is a delicious and easy-to-make dish that is perfect for a weeknight meal, special occasion, or anytime you want more than just a basic, creamy pasta.
And did we mention this recipe is gluten free?
Rojo Smoke is the all-star of this dish, marrying notes of cilantro, cumin, and bell pepper with the earthy smokiness of guajillo and refreshing brightness of tequila and lime. Rojo Smoke is used on the shrimp and in the sauce, so make sure you've got plenty on hand to make this dish sing!
Prep work (aka mise en place) is the key to making this dish a success. Pulling everything together chopped, grated, measured, and poured makes cooking this creamy guajillo tequila lime pasta with Rojo Smoke a breeze. Give yourself a little time to prep everything out, and the recipe will fly by!
Ingredients:
1-2 lbs shrimp, peeled and de-veined (depending on your shrimp to pasta ratio preferences)
1/4 tsp baking soda (optional; per pound of shrimp)
1 tbsp Station 1923 Rojo Smoke All-Purpose Seasoning + more to taste
juice of 1/2 lime
1/4 tsp lime zest
1/2 shallot, chopped
2 tbsp fresh chopped cilantro + more for garnish
4 cloves garlic, minced (we use the frozen Dorot Garlic Cubes)
1 tbsp avocado oil, or neutral high-heat cooking oil of choice
1 cup heavy cream
1 cup tequila blanco
3 heaping tbsp Herdez Guajillo Pepper Paste
1/2 cup water
1 tbsp Better than Bouillon Low Sodium Roasted Chicken Base
1 lb pasta of choice (we used the new Trader Joe's Gluten Free Tagliatelle)
queso fresco to garnish (optional)
I know, I know. Seems like a lot of ingredients, right? It's more than our standard handful, but I promise, it's not complicated  — as long as you mise en place.
Things You'll Need
stock pot (for pasta)
non-stick pan (for sauce)
cutting board
knife
zester/microplane
citrus squeezer (optional)
whisk
tongs
measuring cups
measuring spoons
Got everything ready to go? Let's do it.
Step 1: Prep (Mise en Place)
Peel, de-vein, and clean your shrimp. Tail on, tail off — it's all up to you. For this recipe, we opted to go tails off, and did a full butterfly on the shrimp. Once your shrimp are clean, dry them thoroughly with a paper towel. Optional: use our baking soda hack and refrigerate shrimp for at least 15 minutes to ensure juicy, snappy shrimp.
Tip: For a quick primer on how to butterfly shrimp, check out this Instagram Reel.
Prep the rest of the ingredients for the recipe: chop the cilantro and shallots. Zest and juice the lime. Mince garlic (or use frozen Dorot Garlic Cubes like we do for convenience). Measure out heavy cream, tequila, guajillo pepper paste, water, and bouillon.
Set everything aside.
Season shrimp with Station 1923 Rojo Smoke All-Purpose Seasoning and refrigerate.
Step 2: Boil Water, Cook Shrimp
As the water for pasta boils, sauté the shrimp. Over a high flame, add avocado oil (or cooking oil of choice) to pan, and drop the shrimp in when the pan is piping hot. Be sure not to overcrowd the pan. Sauté the shrimp for 2-3 minutes on each side, taking care to not overcook. The second the shrimp are no longer translucent or grey, pull from the pan onto a plate or dish and set aside.
Step 3: Cook Pasta, Build Sauce
The pasta water should be almost ready, so start to build the sauce. Add your already prepped and measured (see, this is where mise en place comes in!) shallots, cilantro, garlic, lime zest, tequila, and lime juice to a pan over medium flame.
Allow the liquid to educe by half (this will happen within 1-2 minutes), then add guajillo pepper paste, water, and bouillon. Whisk until fully combined. Let the sauce reduce again for another 10 minutes or until it looks like a paste that sticks to your cooking utensil (see image below).
While the sauce is reducing, drop your pasta into the boiling water and cook. The goal is to have the pasta finished cooking (al dente) just as the sauce is in its final stages. Do not drain the pasta.
Once the sauce is reduced, turn your burner to a very low flame, and pour in heavy cream.
Whisk until fully combined, and add more Station 1923 Rojo Smoke seasoning to taste. After 2-3 minutes, the sauce should be fully combined and beginning to simmer.
Step 4: Bring it All Together
Now that your sauce and pasta have come together, turn the boiling pasta pot off and use tongs to add pasta directly from the pasta water to the sauce. You do not need to drain the pasta! Pasta water will help the sauce cling to the noodles, so the end result isn't soupy and goopy.
Pasta water also helps to thicken the sauce without the need for flour #glutenfreewin.
Toss the pasta in the sauce, then add your shrimp. Continue tossing until everything is fully covered in sauce.
Serve hot and garnish with fresh chopped cilantro and queso fresco.
Now that wasn't that bad, was it? Exactly!
If you give this recipe a try, don't forget to tag us on Instagram @station1923!
And don't forget your Rojo Smoke All-Purpose Seasoning!
Shop Rojo Smoke
---