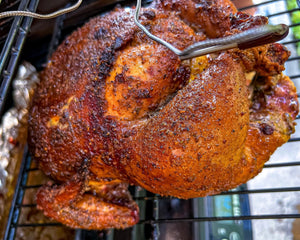 5 Simple Tips for Making a Moist, Delicious Smoked Whole Chicken
Who said grilling season was over? Shake up the holiday table with a moist, delicious smoked whole chicken the Station 1923 way! With these 5 simple tips, you'll have everyone thinking you're a pit master pro — and there's sure to be absolutely no leftovers.
And even if you don't have a smoker, tips 1, 2, 4, and 5 still apply!
Tip 1: Separate the Skin
When working with whole chicken, pulling the skin away from the bigger parts of the chicken is a must. This will make it much easier to season, and allow the flavors to penetrate the meat (instead of just sitting on top of the skin). Simply find an entry point (I like to start at the breast or back), keep your hand flat, and move side-to-side- across the largest parts of the chicken to lift. Use a finger or two near the tail to separate the skin at the thigh.
Don't worry about the wings — they're small and that flavor will get in easily. 
Tip 2: Season (and Stuff)
When it comes to whole chicken, Station 1923 Citrus Herb Seasoning is the perfect, effortless pairing. No fussing over using too much this, or not enough of that. Just shake, massage in, and move on to the next step while our balanced blend of sage, rosemary, garlic, and a touch of lemon do all the heavy lifting.
Because you separated the chicken and skin with Tip #1, getting that Citrus Herb all over and through the chicken should be easy peasy. Don't forget to sprinkle under the skin and rub gently into the meat to help those flavors start penetrating. And throw a shake or two into the cavity of the chicken as well!
Speaking of the chicken cavity, stuffing it with herbs and aromatics is a great way to further enhance the flavor without fuss. My tried-and-true combination is 2-3 sprigs of rosemary, 1/2 an onion (cut into two pieces), 4-5 cloves of garlic, and 1/2 a lemon. I tie the legs together with twine to keep everything inside.
P.S. Brown Sugar Smoke Rub, Creole Smoke Seasoning, and Honey Smoke Rub are also fantastic options for smoked whole chicken. Pick up our All The Smoke Combo to give them a try!
Tip 3: Take It Low and Slow, Then Crank It
Smoking meat is a game of patience and taking it slow, and whole chicken is no exception. Smoking your whole chicken at 225°F for 4-5 hours gives the meat plenty of time to take on the smoke, for the fat to render, and protein to break down.
For the last 30-45 minutes of your smoke, crank that heat up to 345-350°F to get a crispier exterior.
Tip 4: Baste
Halfway through smoking the whole chicken, I like to baste with a combination of butter, honey, and a little Station 1923 Citrus Herb. This trio ensures that the chicken stays moist, the skin crisps up to a beautiful brown, and delivers a more intense flavor.
Tip 5: Temperature Matters
Let's talk temperature! One tool of the trade we recommend no matter your experience level is a meat thermometer or probe. It's the best way to get an accurate measure of doneness, consistently. 
For food safety reasons, 165°F is advised as the internal temperature that signals chicken is cooked thoroughly enough to eat.
However — 165°F doesn't mean you'll get delicious, juicy chicken. In fact, if you wait until your breast meat reaches that temp, you might be in for chicken on the drier side. And if your dark meat (legs, thighs) stay at 165°F, they'll be cooked, but tough.
The sweet spot for whole chicken is to get the thickest part of the chicken breast to 155°F, and the thighs to about 185°F.
Remember — the chicken will continue to cook and rise to temp after removing it from the smoker. And don't forget to let it rest for at least 15 minutes before cutting!
Get everything you need for delicious smoked chicken with Station 1923 Rubs and Seasonings! Click here to start shopping!
---